Wattle Day events around Australia
http://plone.ace-hosting.com.au:8280/wattle-day14/wattle-day-celebrations-around-australia-in-2016 http://plone.ace-hosting.com.au:8280/wattle-day14/wattle-day-celebrations-around-australia-in-2016 http://plone.ace-hosting.com.au:8280/wattle-day14/wattle-day-celebrations-around-australia-in-2016
National Wattle Day- what's happening where in 2016
Add, edit or remove a portlet below the content title
ACT
 Thursday 1 September 2016
Canberra
Friends of the National Arboretum Canberra
2pm on Saturday 27 and 10 am on Sunday 28 August 2016 - meet at the Village Centre
Walks will be led by Dr Suzette Searle - an expert and enthusiast when it comes to Australia's wattles.
 Suzette Searle
Communication Manager
Wattle Day Association Inc.
National Dinosaur Museum - Thursday 1 September 2016 - midday tour

A special midday tour - it is noted that the first wattle to be scientifically described was collected by Thomas Mitchell - learn more about this man and the enormous fossils he found at the Wellington Caves.
Australian National Botanic Gardens - Thursday Lunchtime Talks
Thursday, 1 September 2016 -

12:30pm

to

1:30pm
Dr Emma Kindred will discuss the significance of wattle in Australian landscape and still-life paintings and prints by celebrated artists such as Frederick McCubbin, Elioth Gruner, Penleigh Boyd, Dorrit Black and Grace Cossington Smith.
Dr Emma Kindred is Assistant Curator of Paintings and Sculpture pre-1920 at the National Gallery of Australia. She has previously worked in the National Gallery's Prints and Drawings department and the Australian War Memorial. She completed her doctoral thesis on Arthur Streeton in Cairo, and is currently completing a catalogue rainsonné of the artist's work.
Canberra Yacht Club - 'Wattle Day Dinner with Notable Wattles ' - Thursday 1 September
When: 6.30 pm for sit-down at 7.00 pm Thursday 1 September 2016
Where: Canberra Southern Cross Yacht Club, Mariner Place Yarralumla, Canberra
How much: $70 per person for a three-course, Australian-themed meal (Drinks available at the bar)
After-dinner speaker: The delightful Morgan Spearritt 'Why wattle on Australia's new banknotes?'
RSVP and payment: 5 pm Friday 26 August 2016 
Win a commemorative $5 note folder donated by the Reserve Bank in our dinner raffle!
Wear your own fresh sprig of wattle from your garden or nearby park.
Dress up and wear the wattle colours of green and gold!
 Menu: Click here to download the menu (including gluten free, vegetarian and vegan options)
Please RSVP to Judy Tunningley (Treasurer) with your name and the names of those accompanying you so that we can sit you together (at tables of 8 or 10 people) 
Email: judytunningley@hotmail.com
Mobile: text to 0438319587 or Phone: 02 6231 9587 (Canberra)
Meal requirements: Please let Judy know if you want a vegetarian, gluten-free or vegan meal
Payment
At the time of your booking by email phone or text with Judy please transfer your payment directly to:
BSB: 633000 (Bendigo Bank, Curtin)
Account No: 146421318
Account Name: Wattle Day Association
Lodgement ref: YOUR SURNAME, First name initial x No. of people  e.g. SMITH, J. x 2
Sponsor
Shop A04 Jamison Plaza Macquarie ACT  2614
PH: 6251 7799 FAX: 6251 2323
New South Wales
Sydney
Guest Speaker: Bob Brown
Date: Thursday, 1st September 2016 at 12:30 for 12:45
Venue: Lachlan's Restaurant, Old Government House, Parramatta Park NSW 2150
Dress Standard: Collar and Jacket for Males, "Anything Goes" for Females
Cost per person: $95 - Includes red/white/bubbly and coffee, see invitation letter
RSVP: Close of Business, Tuesday 30th August 2016
For Invitation click here
Bargo
Wirrimbirra Sanctuary - Saturday 3 September 2016
Wattle Day Celebrations and Plant Sale
 Cootamundra
Wattle Time fair and Street Parade - Saturday 27 August 2016
Grenfell
2016 Wattle Day Walk Tuesday August 30th 10.00-3.00 pm
Learn about Wattles - Australia's National Floral Emblem - 
Their unique role in the environment- the valuable production benefits gained
 by planting wattles for livestock and their importance for wildlife. 
Morning tea and lunch provided, no cost.
 To book please contact, Mikla Lewis on weddin@lachlandcare.org.au or 0499 199 016 
Contact Person:Mikla Lewis 
Contact Number:0499 199 016 or weddin@lachlandcare.org.au
www: http://cn.visityoung.com.au/Events/view-event?EventID=6211326
Queensland
Brisbane
Open Minds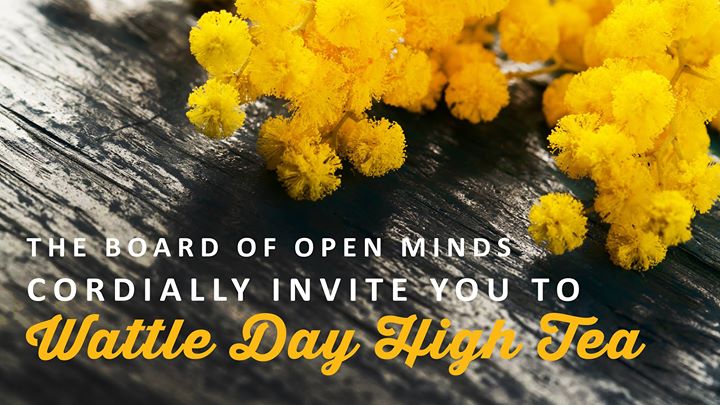 Parliament House
Friday 2 September 2016 at 10.30 am
'The Wattle Day High Tea is by invitation only. Open Minds was originally founded as the Queensland Wattle Day League in 1912. Today, Open Minds is a leading Queensland non-profit organisation providing community based support services to people living with mental illness, disability and acquired brain injury.'
Mount Morgan
Address:
1 Railway Parade
Mount Morgan, Queensland 4714
Phone: 07 49382312
Email: mmpad@bigpond.com
Website: http://www.mountmorgan.org.au
Victoria
Melbourne
The Hurstbridge Wattle Festival, is a significant cultural event for Melbournians that has its roots firmly planted in our early rail history.   It's a joyous celebration of our heritage, environment and community.   Festival goers view the wattles in a blaze of glory along the Diamond Creek as they approach the township of Hurstbridge. As visitors stroll the main street and the various Festival precincts, they enjoy a fabulous and extensive array of entertainment, events and activities for all the family, many of them free.
Follow the signs from the Lower Dandenong road entry to the Community Garden


Venue: Wally Tew Recreation Reserve in Ferntree Gully
Wear something yellow and come along and join in tree planting and a range of free, family-friendly activities including face-painting, a nature tour, a sausage sizzle and more.
Ringwood
Colouring competition for the youngsters (entries by 23 August - winners announced at dance)
Family Bush Dance 7.30 - 11.00 pm
Date Saturday 3 September 2016
Venue:East Ringwood Elderly Citizens Hall, Laurence Grove, E Ringwood
Yarran Dheran Nature Reserve
Yarran Dheran Nature Reserve, 1 Ashburton Drive, Mitcham, Victoria, Australia
 Date Saturday 10 September 10.30 – 12 noon
The Wurundjeri peeople named Yarran Dheran, meaning wattle gully. Learn about Australian wattles and their uses ; identify wattles growing in Yarran Dheran
Book at gay.gallagher@bigpond.com
Western Australia
22nd Wattle Week Festival 3-9 September 2016
 School children taking sprigs of wattle to wear and colouring-in books back 
to their school from the 2009 Wattle Day Exhibition at the Perth Zoological Gardens  
©John Thompson